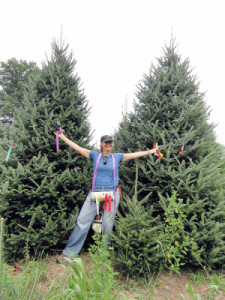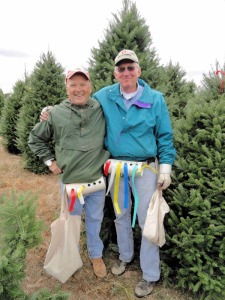 Grading & Grower Tags
However, you WILL see the difference in the trees…..and what's even more important than the overall quality of the field of trees, is what the grade (price) is that we assign to them…..the only trees YOU care about ….are the ones you GET from us…and we personally tag about 3/4 of the trees we sell, the other 1/4 are tagged with help from two retired friends who work on the farm with us.

How a Grower tags is the biggest factor in what you get to work with. So, you must determine what the various "grades" mean to each grower and COMPARE GRADING first and pricing will follow that. The USDA standards for grading trees are unfortunately quite outdated and most Growers' grades do exceed these. Thus to determine real value of the trees, you should see how each Grower grades and prices their trees.

If we can grow higher quality trees, then we can tag MORE of the best ones.
Our GUARANTEE to You
We firmly believe that every transaction must be a win-win for all of us, or forget it! Business isn't about taking advantage of somebody and calling that winning. That is not sustainable, nor honorable.

Your satisfaction is guaranteed. If you have a problem with our trees… then WE have a problem… we will resolve it with you immediately. The tree season is short and there's no time to be messing around with something you didn't order or want. We are firm believers in delivering MORE than we promise.

You will find lots of CHEAPER trees, but none as consistently high quality for the price. Our customer base is primarily Nurseries, Garden Centers, Civic Groups, and other retailers who have a repeat client base that wants high quality/value from them.